The Eight Limbs of Yoga (Part 4 – Pranayama)
24 January 2013
Pranayama is a Sanskrit word which means "restraint of the Prana or breath". The word is actually composed of two words; Pran, meaning life force, or vital energy, particularly referring to the breath, and "ayama", which means to control, suspend or restrain. It is generally understood as controlling the life force (Prana). When used as a technical term in Yoga, it is often translated more specifically as a variety of methods and techniques used for "breath control".
Pranayama is the forth of Patanjali's "Eight Limbs" of Raja Yoga (or classical yoga).
Pranayama is an exact science. "Tasmin Sati Svasa prasvasayorgativicchedah Pranayamah" Translated as "Regulation of breath or the control of Prana is the stoppage of inhalation and exhalation, which follows after securing that steadiness of posture or seat, Asana." This is Pranayama as defined in Patanjali Yoga Sutras (Raja Yoga), Chapter II-49.
Raja Yoga, in theory, tells us that prana is animating the mind. Similar to the wind giving motion of the leaves, prana creates the motion of the mind, giving rise to the vrittis (fluctuations of the "mind stuff"). Air is considered to be the primary physical medium of prana and breathing is most direct method to gain control over the prana. When meditating, the practitioner should calm down his breath until it is very shallow and even, keeping in mind that on the subtle plane the Prana that they are breathing is much more than just atmospheric air, it carries the life force itself.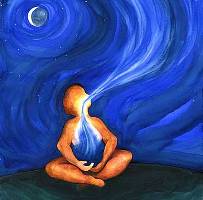 By controlling the act of breathing the student can efficiently and effectively control the various motions in the body and the different nerve currents that are animating the body. When practiced properly, one can easily and quickly gain control over body and mind through Pranayama, developing character and consciously harmonizing the individual's life with the cosmic or Divine life.
The breath, when directed by concentrated thought and brought under the control of the will, becomes a vitalizing, regenerating force which you can direct, using it consciously for self-development, for healing diseases and ailments in your system and for healing others plus many other useful purposes. Research has shown that Pranayama techniques are beneficial in treating a range of stress related disorders, improving autonomic functions, relieving symptoms of asthma, and reducing signs of oxidative stress. Yogis report that the regular practice of Pranayama develops a steady mind, strong will-power, and sound judgment; they also claim that sustained Pranayama practice extends life and enhances perception.
Pranayama should not be practiced in isolation, but instead be part of an overall practice that includes the other limbs of Patanjali's Raja Yoga teachings, especially the first three Yama, Niyama, and Asana which are preliminary.
*Cautionary note: Pranayama, when not practiced properly may be harmful, even dangerous. Certified yoga teachers recommend that Pranayama be practiced with proper instruction and care, and that advanced Pranayama techniques should only be practiced under the guidance of a qualified teacher. Therefore, it is recommended that if you wish to begin practicing Pranayama, you first speak with Rae – so please visit her "Contact" page.
Related article, click on: The Eight Limbs of Yoga (Part 3 – Asana)
Check back soon for "The Eight Limbs of Yoga (Part 5 –Pratyahara)"